Appen met Michael Musandu van Lalaland
01-07-2021 (16:57) - Appen met
Michael Musandu startte als jonge man uit Zimbabwe een bedrijf op die meer diversiteit moet brengen tijdens de online shopervaring doormiddel van het genereren van gezichten en lichamen van mensen die niet bestaan om te gebruiken als model. Hij ontving er een investering mee vanuit de Google for Startups Black Founders Fund, en zijn bedrijf is hiermee de enige Nederlandse startup die een investering krijgt. FONK sprak hem hierover, en over het kerndoel van Lalaland.
WhatsApp-status: .
Hi Anna, Nice to e-meet you :)
*Anne
Nice to e-meet you as well!
congratulations on being selected for the Google for Startups Black Founders Fund, that must be huge!
Thanks, it's truly a humbling experience and such huge honor for us.
LaLaLand is a very advanced and progressive service! exactly what I would imagine people talking about the future thirty years ago would come up with. Let's start at the beginning - how did you start?
hahaha precisely, it's like a Black Mirror episode. No, they say the best way to predict the future is to create it and that's what we are doing here at Lalaland.

I was going to draw that comparison haha
very bold, for sure!
Where did you come up with the idea for Lalaland?
I guess it's not the typical founder starting a company in a garage story.
But I was born in Zimbabwe and raised in South Africa, where I met my first love, technology. I started by building low-level expert systems in school. Inspired to learn more, I moved to the Netherlands to study computer science at the Vrije Universiteit in Amsterdam. There, I met Ugnius Rimša, who eventually became my co-founder.
Next, I did a graduate program in Artificial Intelligence at Utrecht University. There I discovered generative adversarial networks: neural networks that capture variation within data-sets. I was curious to discover the opportunities for commercial use of such networks, which is why I joined Utrecht Inc. which supports young founders to transform projects into companies.
I had already found a solution, but was in search of a problem we could solve with our technology. Here is where my third partner in crime comes in: Harold Smeeman. We met during our incubation program and discovered that we both felt severely underrepresented when shopping online as black and plus-size consumers. How do these garments actually look on and fit people like us? And that's how Lalaland was born - out of a wish to diversify the web and solve the problem of people feeling underrepresented online.

That sounds really cool!
the journey seems like it is the perfect consequence to the situation you are in, very impressive
but of course underrepresentation is a huge issue (finally) right now
What is the biggest challenge you have come across while building and developing LaLaLand so far?
Fashion brands love to sell aspirational beauty, literally selling a dream instead of reality.
The adoption/acceptance for brands to start using diverse models (beyond a PR statement) was a challenge at first. It forced us to become extremely metrics-driven. To show its inclusivity that leads to profitability.
That if they don't do this, it's bad for their business affecting both their topline and bottom line. (high fashion return rates)
Yes that makes a lot of sense
all entrepreneurs have a vision for the future of their company, how do you envision Lalaland to develop?

Our mission is to make the web a more diverse place. (
FULLSTOP
)
Once we are done empowering both consumers and brands to pluralize beauty standards and combat landfill waste by decreasing fashion return rates.
I see us exploring other markets beyond fashion like advertising and performance marketing.
Cool! great core cause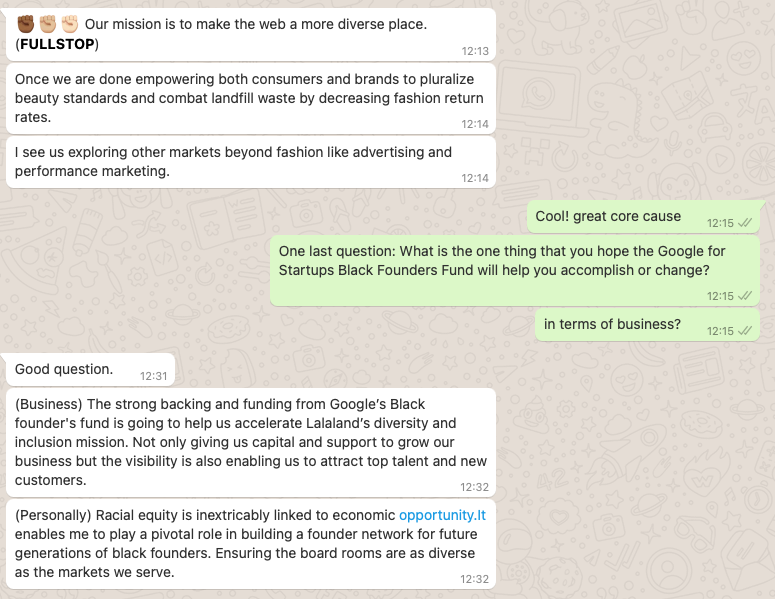 One last question: What is the one thing that you hope the Google for Startups Black Founders Fund will help you accomplish or change?
in terms of business?
Good question.
(Business) The strong backing and funding from Google's Black founder's fund is going to help us accelerate Lalaland's diversity and inclusion mission. Not only giving us capital and support to grow our business but the visibility is also enabling us to attract top talent and new customers.
(Personally) Racial equity is inextricably linked to economic opportunity.It enables me to play a pivotal role in building a founder network for future generations of black founders. Ensuring the board rooms are as diverse as the markets we serve.

Yes, I totally agree with that!
Very interesting vision that I think more people need to hear
Thank you so much for your time Michael, good luck with everything that's coming your way!
Thanks Anne.
I enjoyed this fun format of an interview.
Enjoy the rest of your day :)

I'm glad :) You too!
---