Appen met Michele Romanow en Andrew D'Souza
21-05-2021 (07:00) - Appen met
's Wereld's grootste e-commerce investeerder
CLEARCO komt naar Nederland
. FONK sprak met de founders van dit platform over hun model en wat dat betekent voor de bedrijven waarin geïnvesteerd wordt. Hun verhaal is indrukwekkend en draagt bij aan het 'levelen' van het speelveld door unbiased te kijken naar inhoudelijke factsheets van de bedrijven die een aanbod willen.
WhatsApp-status
Michele Romanow: Available
Andrew D'Souza: Hey there! I am using WhatsApp.
Hi! Thank you so much for taking the time to talk to me
And congratulations on coming to Europe with Clearco!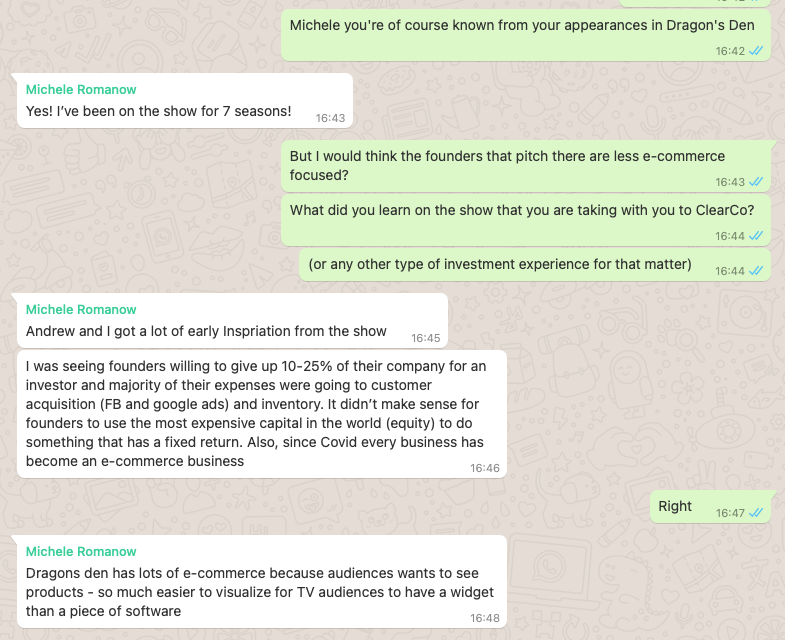 Michele Romanow
: Hi andrew we're doing this interview over text
Andrew D'Souza
: Nice to meet you!
Michele Romanow
: Thanks! We're very excited to be in Europe now

Right off the bat - can you tell our readers what Clearco does and how you got started?
Andrew D'Souza: Clearco invests in ecommerce and software businesses and provides guidance and a network to help them grow
Andrew D'Souza: What's different about us is that we don't take equity and ownership in the business
Andrew D'Souza: and we don't take security in the business like traditional loans, which require assets and often personal guarantees of the founders
Michele Romanow: ClearCo provides non dilutive capital to founders in the form of a revenue share agreement. So for $100k instead of giving up 5% of your company which investors own forever, you're just giving up 5% of your revenue until you pay us back the capital plus 6% (so you pay ClearCo back $106k for $100k)
that's a very interesting model
That must make Clearco very attractive for business owners
Andrew D'Souza: Yes, we've invested over $2B into 5000 businesses worldwide so far

I know, very impressive!
Am I correct that you focus on startups?
Andrew D'Souza: We focus on any online business: ecommerce, software, mobile apps. If your customers find you online and you can deliver your product/service online, we can help
Michele Romanow: Yes we're the largest e-commerce investor in the world!

Very cool!
Michele you're of course known from your appearances in Dragon's Den
Michele Romanow: Yes! I've been on the show for 7 seasons!

But I would think the founders that pitch there are less e-commerce focused?
What did you learn on the show that you are taking with you to ClearCo?
(or any other type of investment experience for that matter)
Michele Romanow: Andrew and I got a lot of early Inspriation from the show
Michele Romanow: I was seeing founders willing to give up 10-25% of their company for an investor and majority of their expenses were going to customer acquisition (FB and google ads) and inventory. It didn't make sense for founders to use the most expensive capital in the world (equity) to do something that has a fixed return. Also, since Covid every business has become an e-commerce business

Right
Michele Romanow: Dragons den has lots of e-commerce because audiences wants to see products - so much easier to visualize for TV audiences to have a widget than a piece of software

Exactly
So it's a big step to come to Europe of course
What made you pick The Netherlands?
Andrew D'Souza: We realized that founders around the world really needed an investor and partner that could help take them global. As difficult as it is to raise funds in the US, it's even harder everywhere else. In today's world, every business is an ecommerce business and every business can find customers anywhere in the world
Especially now!
Andrew D'Souza: The Netherlands is a great entry point into Europe. It was actually the last international trip I made before COVID to explore the entrepreneurial scene in Holland and I was so impressed with the energy and momentum of the founders I met
nice! lucky that you got to visit as well!
Andrew D'Souza: It's a great entry point into Europe for us

Do you already have the first company picked to invest here?
Michele Romanow: Yes! We've invested in a bunch already
Michele Romanow: A few cool ones
Wonderful! Can you tell me about them?

Michele Romanow
: Dayclocks - started by a 52 year old seimans engineer that left his job to start a platform to help his elderly parents use their cellphones
Lab Fresh - am awesome apparel company previously on Dragons' Den
Goodiebox - huge surprise subscription box!


Nice!
Sounds great I'm excited to see how they grow in the future
One last question - I can imagine that when investing in companies it is really important to have the right network to draw from
how do you operate in terms of making sure you get to the right people? Or do they come to you?
Andrew D'Souza: This is one of the most important parts of our model. We only use data to make our investment decisions, so a founder doesn't need to know us or to get a warm introduction, they just plug in the apps they use to run their business and get an automated investment offer within minutes
Andrew D'Souza: They can, of course, talk to someone on our investment team if they have questions or want to know more about what Clearco has to offer

Do you think this helps leveling the playing field in terms of access to capital?
Michele Romanow: Definitely!

Because it sounds like that would contribute to that
Andrew D'Souza: but this method removes all of the bias from our process. So far, we've funded 8x more women than the typical VC average, 30% people of colour, and founders in every state in America, every province in Canada, and 70% of our founders in the UK live outside of London. We very much expect to fund founders across The Netherlands, not just in and around Amsterdam

Wow, that is really cool!
Michele Romanow: We're very proud of this!
Michele Romanow: Because we didn't change anything on top of funnel
Michele Romanow: This is just what happens when you take the human bias out of investing
Right! very impressive
It kind of creates this anonymous content-focused way of pitching
Michele Romanow: To get capital from ClearCo you just connect the apps that run your business and in 20 mins we can get you a term sheet - you don't need to pitch us!

it's a great model!
Thank you for your time Andrew and Michele, I appreciate it
Michele Romanow: This was fun!!!
Michele Romanow: Thank you so much for sharing our story
Andrew D'Souza: Thank you! This was a great way to do an interview!

My pleasure! Thank you for sharing
Have a good day!
Andrew D'Souza: You too!
---