WhatsAppen met Rose Beaumont
04-09-2020 (15:51) - Appen met
Voetbalfans moeten de wedstrijden van de UEFA Champions League vanwege Covid-19 vanuit huis volgen. Om ze toch de mogelijkheid te geven hun team aan te moedigen, creëerde Mastercard via TikTok een grote digitale wave. De Britse Rose Beaumont, senior vice president global marketing & communications van Mastercard is het brein achter de sympathieke actie.
WhatsApp-status: -

Hi Rose. Are you ready?
Hello! I am here and keen to do this
Tell me about the digital wave. I heard it was your idea?
The Priceless Wave as I like to call it, was an idea in response to the challenges presented by the pandemic
Looking for a way that can unite people while separated.
And why 'priceless'
At Mastercard we have the mission to connect everyone everywhere to Priceless possibilities. And in creating this digital wave I wanted to showcase that a celebration while apart is indeed Priceless.
Indeed! It sparked my imagination when I read about it.
That's great and I hope you did a wave too!
Did the football players get to see the waves? Were the video's shown on the big screens in the stadiums for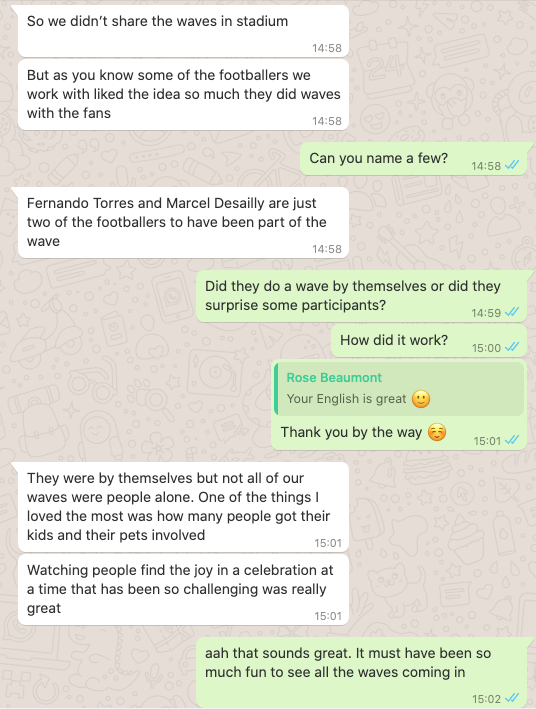 instance?
So we didn't share the waves in stadium. But as you know some of the footballers we work with liked the idea so much they did waves with the fans.
Can you name a few?
Fernando Torres and Marcel Desailly are just two of the footballers to have been part of the wave.
Did they do a wave by themselves or did they surprise some participants?
They were by themselves, but not all of our waves were people alone. One of the things I loved the most was how many people got their kids and their pets involved. Watching people find the joy in a celebration at a time that has been so challenging was really great.
How many people participated in the end?
So we had various platforms active.
The Priceless Wave on TikTok
has been viewed by 1.4 billion people. With over 250m people liking, sharing or commenting. At last count on TikTok alone there was just short of a million waves. And our employees at Mastercard also got involved.
Ofcourse! And you too.
Oh I am always waving these days


Hahahaha


Which video's were according to you extra special, funny? You mentioned pets ...
Oh so many. I love dogs! And so where people were using their dogs it was great. I also enjoyed where people used it as an excuse to do something as a family or friends. After all that was the idea, how do we bring people together in shared celebration. Social media is such a great platform to express yourself while also being part of something connected.
You mention very high numbers of uploaded waves. Is it enough for a Guinness World Record?
So, the short answer is I hope so!! We have entered applications for an official GWR. But from our research are already fairly confident that there has never been a bigger digital wave.
So is this going to have a follow up?
I already have some ideas for how we build on this. And with the new season of the UEFA Champions League starting soon, am excited that all those people who want to wave won't have to wait long.
Like what?
Well I like the idea of nominating people. That came about organically during the wave this time but to embed from the start could be fun. And obviously we will need to speak again, at the launch of the next wave, on the really new elements

I still think you should share the next communal wave in the stadiums. The wave is also for the players to make them play better ??
That's a great idea!
I like your dog by the way. What's his name? Did he do a wave with you?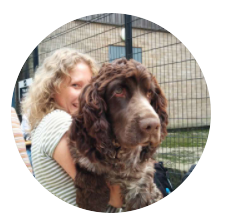 He is Humphrey and he will do most things If there is a biscuit involved.

Well thank you for your time Rose. And thank you for this nice chat

Thanks to you. I've really enjoyed chatting and I hope that this conversation inspires everyone to remember that even when we are contactless we can stay connected.
---