Oh Dear! Oh Dear! Five days left to enter
09-10-2017 (14:47) - Powered by
"How long is forever?" asked Alice. "Sometimes just one second."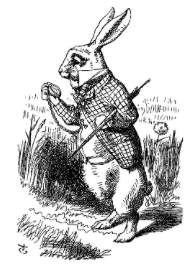 And how long does it take to enter the Epica Awards? Not much longer actually. Our entry system is made for quick and easy registration and our friendly international staff are ready with all hands on deck to give you personalised help with your submissions.
These are the last days to enter your work, have it seen by senior editors and leading journalists from around the world, and hopefully win an award!
Start or complete your
registration
now and don't miss your only chance of the year to enter a truly fair and objective creative prize.
THE EPICA AWARDS: OBJECTIVE AND UNBIASED SINCE 1987
Epica
is the only global creative prize awarded by journalists. It offers an independent jury and global press coverage. Launched 31 years ago, today it is an international celebration of creativity, attracting thousands of entries from more than 70 countries.
No politics, no in-fighting, no coalitions. Our jurors are independent yet passionate about creativity. They are the editors and leading reporters of esteemed industry journals from around the globe.
Every agency that enters Epica has already won, because their work is seen by the very group of people who can spread the word about their talent. That's why we attract entries from up-and-coming agencies as well as big networks.
As Epica covers advertising, design, PR and digital, this year's jury includes some niche titles who will vote on categories related to their sector of industry. We are joined for instance by German magazine Digital Production for the post-production categories, while in the UK, PR specialist The Holmes Report will cast its vote on relevant entries. For the Virtual Reality category we're joined by specialist magazines VRODO and ARVR. And from an entirely different world, the fashion editor of Marie Claire France will weigh in on fashion campaigns.
---