WhatsAppen met Kerrie Finch
28-03-2019 (13:37) - Appen met
FinchFactor onthulde vandaag dat het wereldwijd opererende communicatiebedrijf is omgevormd tot 'futurefactor'. Founder en pr-goeroe Kerrie Finch maakte tijd voor ons vrij om te appen over toekomstplannen en zelfs over tequila.


WhatsApp-status: Curiously fresh

Hi there! This is Rosa, from FONK. Just let me know when you're ready to talk about the big news today :)
Hey Rosa! Thanks for getting in touch - let's do this!

Yes! Busy day?
It's pretty bonkers, but in a good way. It's the end of our FinchFactor era and the start of a new one -- as futurefactor. The new brand went live this morning. Plus I'm off to LA early tomorrow morning to work from our office there for 6 weeks. So there's so much to organise!

Exciting times then! What's the reason you are starting this new era?
Times have changed since we founded -
the media landscape, communication platforms
, social, how people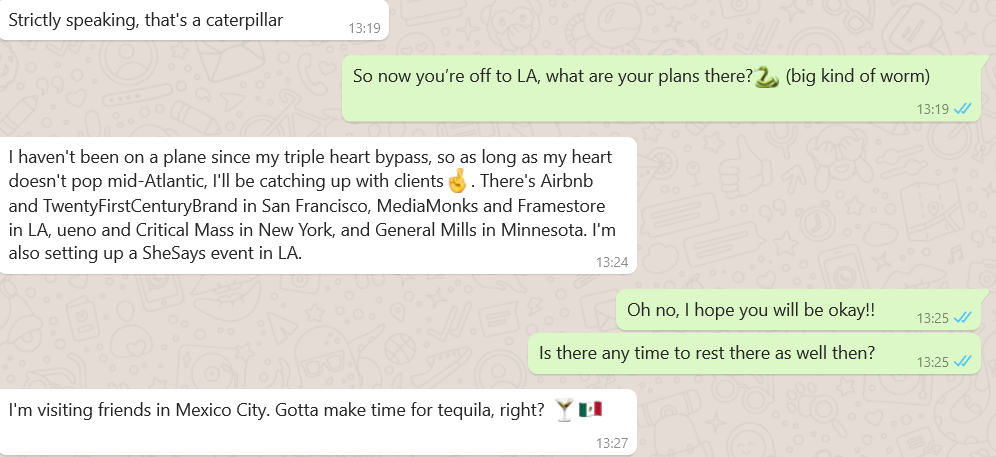 do business. We live in an earned-first era now. FinchFactor is responding to that. We're evolving. We're transforming into a new kind of communications company -- helping brands be fit for the future.

What does the earned-first era bring us?
That's a great question. In today's world, what a company does and how it does it is as important as what it says. This is what we mean by the earned era - the era where an earned-first approach is essential. That's a major shift of focus for a lot of brands. We're here to help.

You have already helped a lot of great brands. Are you adding new ones to futurefactor?
We're living in a time when trust and truth is being undermined. We see this throughout culture ad society in any country. I believe this increases the importance of earned attention for brands. We help our clients equip themselves not just to survive but to thrive today and tomorrow.

Sorry, I was still riffing on the previous question!

Thats ok ;) its the spontaneity of a whatsapp interview
So .. new clients? We've always worked with creative businesses, tech innovators and ambitious brands - like MediaMonks, Airbnb, General Mills, bunq, Happen, Framestore. We're in a fortunate position that 80% of our client roster has approached us, because they've heard of us through reputation.

So futurefactor is pretty good in the earned first strategy itself!
Hah! Thanks ;) Nowadays, due to the seismic shift of tectonic plates within the creative industry, we're hearing from a lot of production companies, digital agencies, and creative hotshops who are nervous about the future. Who are looking to navigate successfully through change . We help our clients through communication strategy, content and block-rocking PR expertise. That hasn't changed.
We're also working with a number of major brands on articulating their purpose, as well as fostering a culture of creativity. That's powerful stuff and something to get our teeth into. We truly believe that any brand's focus has to stand by three things: authentic purpose, a culture of creativity, and a commitment to inclusion.

So no need to get nervous?
There's always a need to get nervous!
As a Brit living in Amsterdam I'm pro-Europe. BREXIT is making me extremely nervous.

Are you still nervous as well sometimes or do you know this discipline well enough to be ahead of all the changes? - Ah that I can imagine! There is also an office in London right?
We're in AMS, LDN and LA, yep. We're holding our gunpowder dry regards the UK and any specific growth plans for the London office until we know whats happening with BREXIT.

About nervousness and change --We've expanded our leadership team at futurefactor - three heads are always better than one. Nick Bailey (Creative Partner) was originally a client when he worked at AKQA. He brings creative digital and production expertise to the table. Sarah Taylor (Client Partner) knows where the bodies are buried! She's worked with me since 2004, from our Wieden+Kennedy days onwards. She's a brilliant client whisperer and team player. It means we're all playing to our strengths when it comes to leading a business successfully through growth and change.


Haha client whisperer, Nice word. So together you are well-prepared for what the future brings! Are you looking forward to working with this team?
It feels natural and energising. I'm stoked! I'm lucky to have Nick and Sarah standing shoulder to shoulder with me. It's a testament to my belief in the power of this partnership that the name above the door has changed. That's a big step. It feels right. They are shareholders in the business, so we're in it together.
Next step is we all change our surnames to Future ;)

Haha that would be great!
Let's start a petition and make it happen.

Yes, that always Worms.
Works, autocorrect.



Strictly speaking, that's a caterpillar
So now you're off to LA, what are your plans there?

(big kind of worm)
I haven't been on a plane since my triple heart bypass, so as long as my heart doesn't pop mid-Atlantic, I'll be catching up with clients. There's Airbnb and TwentyFirstCenturyBrand in San Francisco, MediaMonks and Framestore in LA, ueno and Critical Mass in New York, and General Mills in Minnesota. I'm also setting up a SheSays event in LA.

Oh no, I hope you will be okay!! Is there any time to rest as well then?
I'm visiting friends in Mexico City. Gotta make time for tequila, right?

Very true! I wish you an amazing time there and drink a tequila for me :) Thank you so much for your time!
If there's room in my suitcase, I'll bring a bottle back for you.

Haha, very kind!
Thanks for asking me to chat -- always happy to discuss, worms, tequila, travel and futurefactor over WhatsApp!

Especially Worms ;). Speak to you soon!

---