WhatsAppen met Leah Forsyth
09-08-2018 (17:32) - Appen met
De consument is een beetje klaar met influencers en verlangt weer naar 'echte' mensen. Bureau HarrimanSteel, vers verhuisd vanuit Londen naar Amsterdam, speelde in op deze trend. In de campagne voor Intersport en Nike voor de Pegasus Turbo hardloopschoen laten ze ons kennis maken met Coach Lee. We vroegen aan Leah Forsyth, Managing Director bij HarrimanSteel, hoe dat nou zit.
WhatsApp-Status: At the movies
Hi Leah! Alexander here from FONK Magazine.
Hi Alexander! Nice to hear from you!

How are you doing?
Good thanks.. enjoying the cool change. It's a relief!

Yes! Earlier this week we wrote about the HarrimanSteel campaign for Nike. Could you tell us a little about how the campaign came about?
We were asked by a group of our Nike clients to develop a bespoke campaign for the retailer Intersport.. the goal was to create original content that connected with the consumer, whilst telling the innovation story behind the product.

And how did you end up selecting Coach Lee?
That was a challenge! We'd set the bar high with our strategy in this one.. We wanted to find an influencer that not only had the reach, but who was also passionate about running, a product geek and was also credible within the sport. We spent weeks digging online, reaching out to the running communities across Europe. And eventually a contact from London shared Lees profile with us.. Lee is a natural storyteller, a down to earth runner, who is completely obsessed.. he was the perfect fit!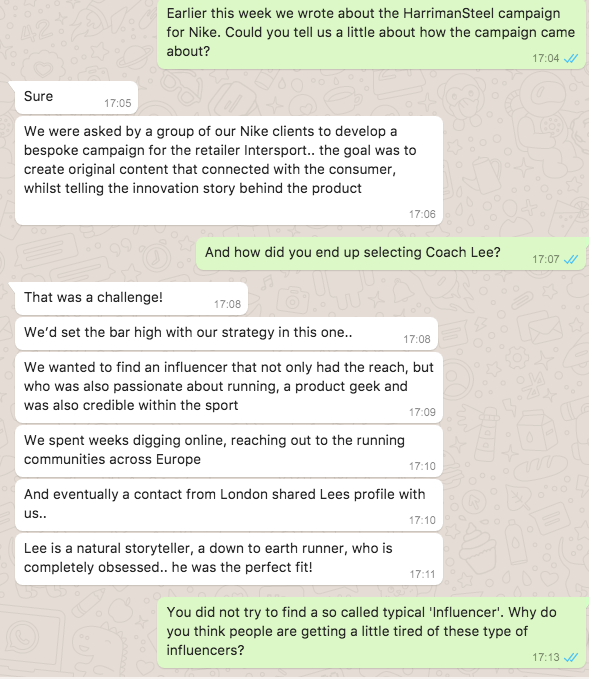 You did not try to find a so called typical 'Influencer'. Why do you think people are getting a little tired of that?
We've worked with influencers for years and it became apparent that the approach needs to evolve.. the audiences feeds are saturated with brand endorsed content and we believe brands are missing the opportunity to generate deeper engagement with more meaningful, authentic content.
Wasn't it a little risky to not use a script for Coach Lee when representing a big brand like Nike?
This was an interesting process - to throw away the script. But it was essential to have Lee's real voice shine through.. that means his words, as a runner, to runners. And of course Lee had to do a fair amount of study!

Let's talk results :) How did people respond?
So far so good! We've just passed the first stages of the campaign and we've had a fantastic response from Coach Lees pre trial team..He chose 100 runners across Europe to trial the product and share across instagram with their testimony on the product. We've had a combined reach of 1.2m and loads of great reviews from the runners.
So all in all a great launch for the Nike Pegasus Turbo shoe. Are you a runner yourself by the way?
Ha! I can't lie.. I'm a yoga type, not a runner. But I've got a lot of respect for Coach Lee.

Thanks for your time!
Thanks for having me!
Coach Lee kan gevolgd worden op Instagram op
@jungle.vip
---